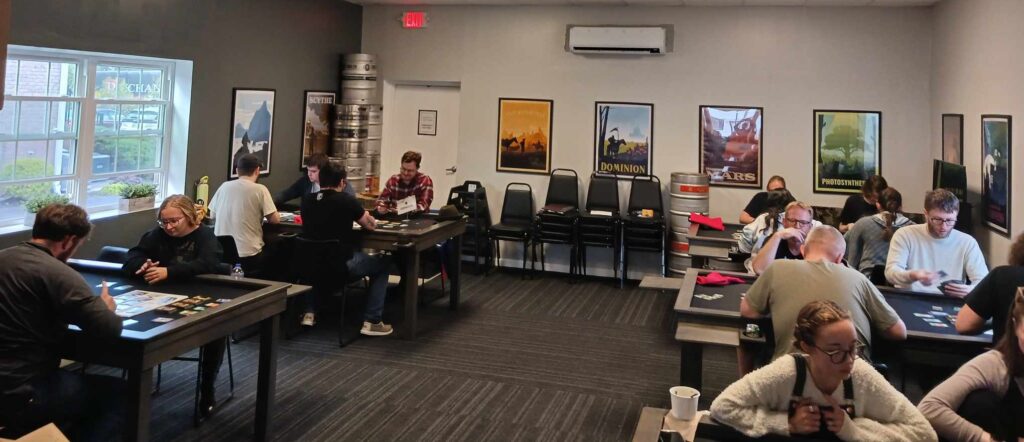 On Saturday, October 7, 2023 I held my 15th Dominion tournament with physical cards near Cincinnati, OH. We had a turnout of 14 people and there was some pretty steep competition there, but at the end we had our winner, my fellow podcast host, Jake Schwartz!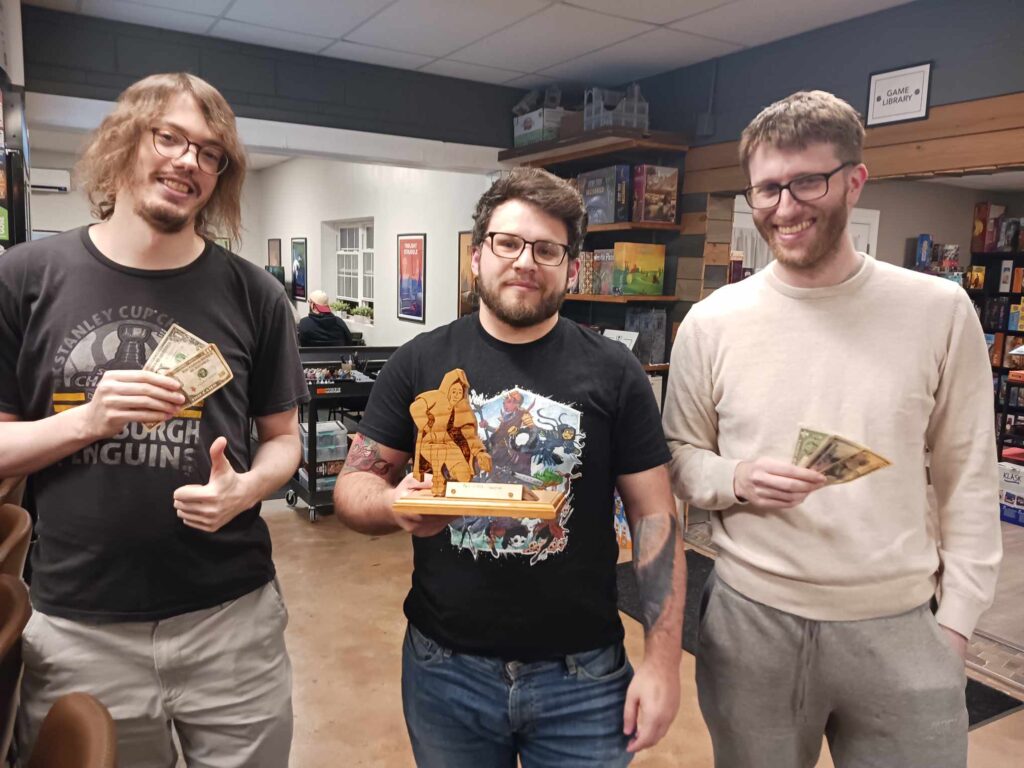 Along with Jake as the champion, we had Jacob in second place with his first tournament appearance (yes it was an all-Jacob finals) and Nathan, a two-time champion of my tournaments in third place, all of them cashed in the tournament. Highlights from the tournament were the tiebreaker before the finals, where we had five tied players competing for four spots in the finals, and also the trophy match where I improved my trophy match record to 7-1 with a stylish Embargoed-Curse pileout.
We had 14 players turn out for the tournament this time, which is probably due to the fact that I definitely didn't promote this tournament as heavily as I have for some of my other tournaments in the past. It's no secret that I haven't been playing online Dominion recently, which mean I just haven't been playing as much Dominion as I used to. A bit sad, but that's likely to change when the Temple Gates Games app becomes public, which will definitely happen, RIGHT?
Here's a link to the spreadsheet containing all of the kingdoms I used for this tournament, plus all of the backup kingdoms that never got used. I'll discuss the designed kingdoms here.
Finals Kingdom 1: Emissary, Ironmonger, Horn of Plenty, Overlord, Silver Mine, Remodel, Upgrade, Oasis, Altar, Augurs, Band of Nomads, Way of the Rat
So the idea behind this kingdom is a Horn of Plenty megaturn, but the draw being Emissary/Ironmonger makes things a bit more interesting because it's hard to have enough action density to be able to draw consistently. You would prefer to have a relatively thin deck here, one that can use Overlord's flexibility to keep your turns going and get a stack of favor tokens by playing Overlord-as-Emissary at the right times. Way of the Rat helps a lot with getting lots of Overlords so this becomes very fast to build. The big trick, though, is that Band of Nomads is more than just a way to desperately draw cards to keep your turn alive — if you've drawn your deck and you play a Horn of Plenty to gain another Horn, you can use a favor to draw that Horn and still play it that turn. The first player to put themselves in this situation and notice what they can do can deny Horns to their opponent, which effectively ends the game
Finals Kingdom 2: Broker, Hunting Grounds, Swap, Merchant Guild, Improve, Magpie, Cauldron, Counterfeit, Sea Chart, Cellar, Borrow, Gang of Pickpockets
Broker is the only village, and the good draw and the good payload here is all terminal, so that's the awkwardness of this kingdom. But the draw and payload is good enough that you want to go for it, and there are plenty of ways to build a reliable and sustainable deck and keep enough Broker Food in your deck to make it happen. Having lots of Swaps can ensure you always have a Broker in hand when you need it without having too many, and you can Swap Magpies back into the supply and re-gain them that same turn without too much trouble.
Finals Kingdom 3: Monkey, Tireless (First Mate), Merchant, Steward, Market, Ironworks, Underling, Skirmisher, Treasure Map, Monument, Tireless, City-State
There's a deck here that can play a LOT of Monuments pretty quickly, but First Mate is the only village and it's a significant part of the draw as well. Fortunately, you can make the deck very consistent and still build aggressively towards payload because of the synergy between the Tireless ability of First Mate and Monkey, ensuring that you will always start your hand with at least one First Mate and potentially all of them. There are some other cute tricks you can do with Treasure Map and City-State but I'm not sure it measures up to the deck that can play so many Monuments every turn.
Finals Kingdom 4: Shepherd, City Quarter, Odysseys, King's Cache, Animal Fair, Corsair, Merchant Camp, Sheepdog, Fisherman, Camel Train, Way of the Mule
So there's no trashing here, and the draw is mostly Shepherd and City Quarter, which would both struggle here because Shepherd only works well when there's other draw, and City Quarter really wants good action density. But you can gain enough of it using Camel Train and Sunken Treasure (with King's Cache if you need it) that it all works out. You need to go heavy on the gains here because the only +Buy is Animal Fair, but once the City Quarters empty you end up having super explosive turns and your deck ends up being more consistent than you might expect given that there is zero trashing. The components here are pretty weak and don't necessarily have the best synergy, but you can just shove so many Action cards into the deck that it eventually works out in spite of that.
So that's my write-up for this tournament. It really was great to see everyone who showed up and even if I play zero games of Dominion in the next six months, I'll definitely be running another one of these in the Spring of 2024, so keep your eyes open for that. You can stay up-to-date on Dominion events in the Midwest, USA by following this Facebook group.