The Bite-Sized series of articles is meant to take the most powerful cards in Dominion and give a short explanation of what makes them powerful.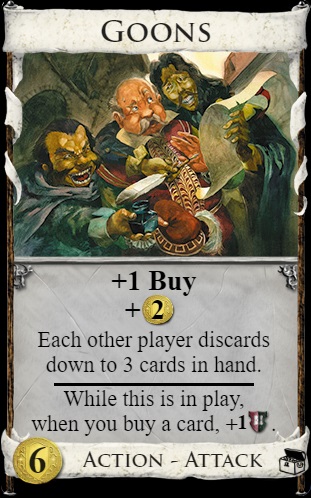 Goons is important on nearly every single board where you see it, but why it's important can vary. The differentiating factor here is whether or not you can realistically play more than one Goons in a turn.
If you can only play one Goons in a turn, chances are the attack portion of the card is very strong, while the VP tokens you get are a nice little bonus. In these games, it's frequently worth picking up several copies of Goons just to ensure you can play one every turn.
While that case still makes it a very important card in most games, Goons is much more powerful when it's possible to play multiple copies in one turn. This is mostly because you can outscore most other strategies with just VP tokens that you get from Goons, while not necessarily making your deck worse in the process.
In most Goons games, putting the first Goons in your deck is usually a high priority, since the discard attack can make it difficult for your opponent to hit $6 to get their first Goons.More detail on Goons can be found in this podcast episode.